Ocean Uses : Status, Trends, and Linkages
Commercial and Recreational Fishing
Commercial fishermen use a variety of vessels and gear types in the region, including bottom trawls, dredges and pots, and often harvest multiple types of fish and shellfish. To be successful, they must understand weather patterns and environmental conditions, and how these might affect the fish. In addition, many commercial fishermen own their own businesses, and so must spend time making sure permits and licenses are up to date, maintaining gear, and finding dealers or processors (MAFMC).
Commercial fishing vessels are based out of almost every Mid-Atlantic port. Data from Vessel Trip Reports, Vessel Monitoring Systems, and the Communities at Sea approach reveal the distribution and importance of fishing activity in the region.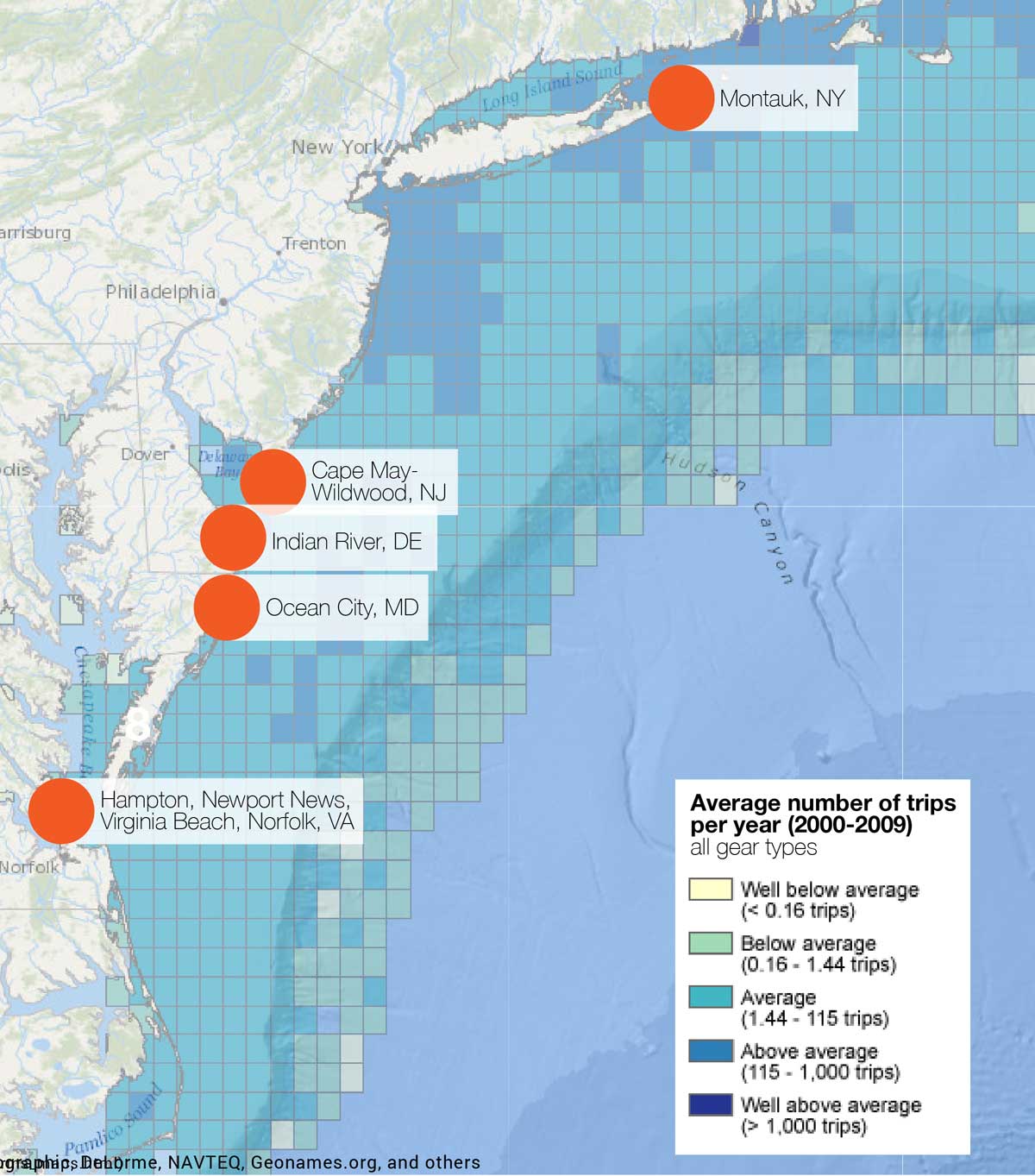 Seafood Sales and Processing
Seafood processing includes activities that convert landed fish and shellfish into fresh, canned, cured, and frozen seafood products. Seafood sales and processing contributed over $983 million toward the ocean economy of the region in 2012; data were not available for processing in Delaware or sales in Maryland (NOEP 2015).
Seafood processing in the Mid-Atlantic region is concentrated in Virginia, with 37 establishments, and New York, with 22 establishments (NOEP 2015). Seafood sales in the region are concentrated in New York (398 establishments) and New Jersey (131 establishments) (NOEP 2015).
Recreational fishing is a popular pastime and a significant economic driver in the region. Between 2003 and 2012, an average of 2.8 million anglers fished in the Mid-Atlantic region annually (NOAA-OST 2012). In 2009, approximately 42,000 people were employed in the recreational fishing industry, with an income impact of nearly $3 billion (MAFMC). Recreational fishing also stimulates other coastal industries by attracting tourists to the coast. Non-residents spent a total of $211 million on fishing trips and related expenses in 2012, including private boat charters (NOAA-OST 2012).
In 2012, 92 percent of regional recreational anglers were Mid-Atlantic coastal county residents (NOAA-OST 2012). Approximately half of all fishing trips occurred on private or rental boats, while shore-based fishing represented about 40 percent of all fishing trips (NOAA-OST 2012).
The most often-caught recreational species in 2012 in the Mid-Atlantic include summer flounder, Atlantic croaker, black sea bass, and bluefish. Between 2003 and 2012, summer flounder was the most commonly caught species, averaging 20 million fish caught per year over this time, and of which 88 percent were released rather than kept (NOAA-OST 2012).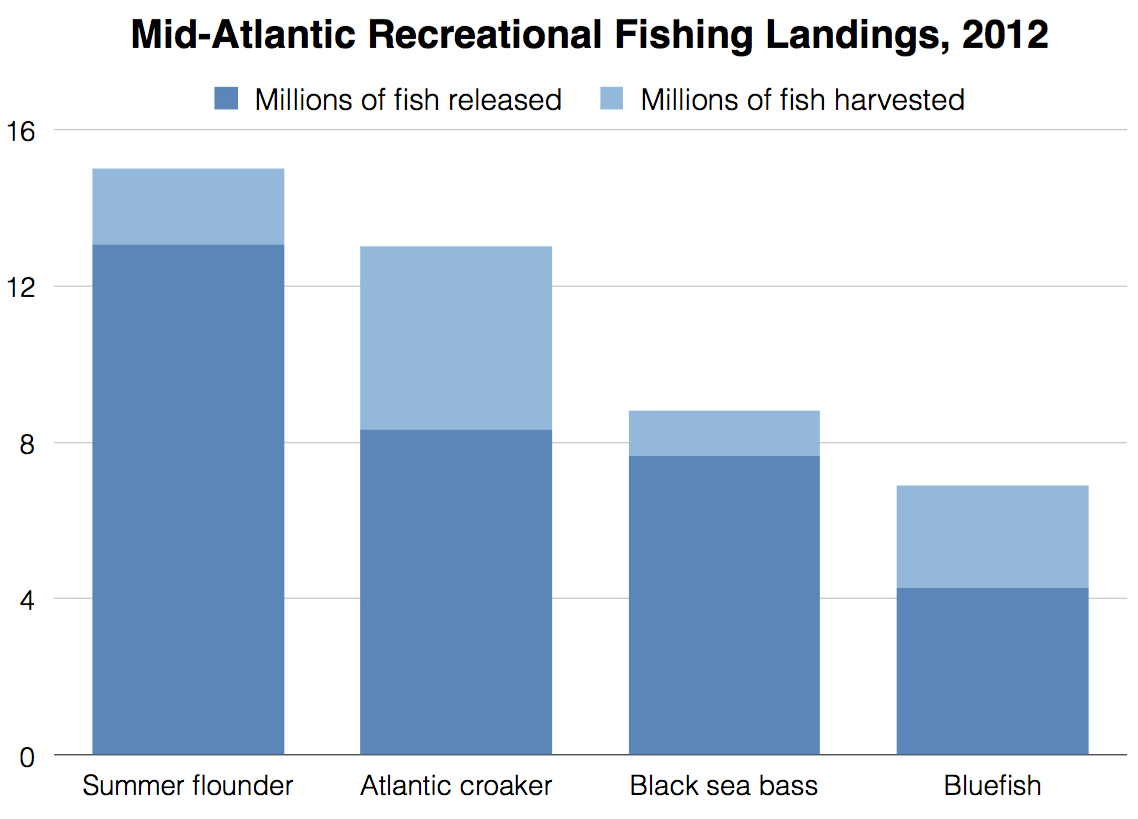 ROA Linkages
The following sections of the ROA are closely related to the Commercial and Recreational Fishing section:
Selected Sources of Further Information